Rits is a wholly owned Irish company that was established in 1990. Our focus has always been the delivery of specialised security consulting services, to Irish and international organisations. We count Ireland's leading companies and Government departments among our clients. Internationally Rits works with many leading financial institutions and technology companies.

We draw on our many years of technical security and project management experience to deliver a pragmatic and effective security advice resource.
Information Security is our only focus. As an independent firm we have the best interest of our clients at heart and can be relied upon to provide realistic, effective and cost saving advice when it comes to determining security strategy, selecting or deploying security solutions.
Experience and independence makes Rits an easy choice when choosing a security partner in these challenging times

We Understand Business And The Associated Risks
Information Technology is the central nervous system of today's organisations, transmitting information that is vital to their success - and perhaps their very survival. Much of this information must be protected against unauthorised disclosure, interception, or alteration. This is the function of Information Security.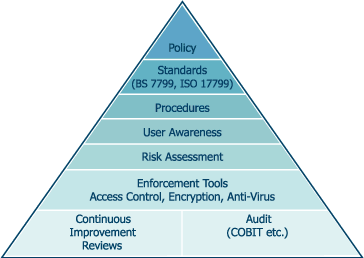 Successful security planning requires knowledge of threats to systems, areas exposed to those threats, and the countermeasures that can be instituted. The problems range from vulnerabilities for systems, terminals, and local networks to physical security for servers and workstations.
Confidentiality
in Information Security terms is concerned with ensuring that information of a specific classification, i.e. private to Company, private to a given Department or private to a given individual, is not disseminated to persons outside the category for which it is classified.
Integrity
of data is concerned with the quality and reliability of information, such that management can be assured that the information on which decisions are based has not been modified illicitly or otherwise.
Availability
is concerned with ensuring the availability of systems and data on a timely basis such that strategic and business decisions can be effected as rapidly as possible. In the event that systems or data are unavailable, opportunities may be lost, deadlines missed or commitments defaulted.